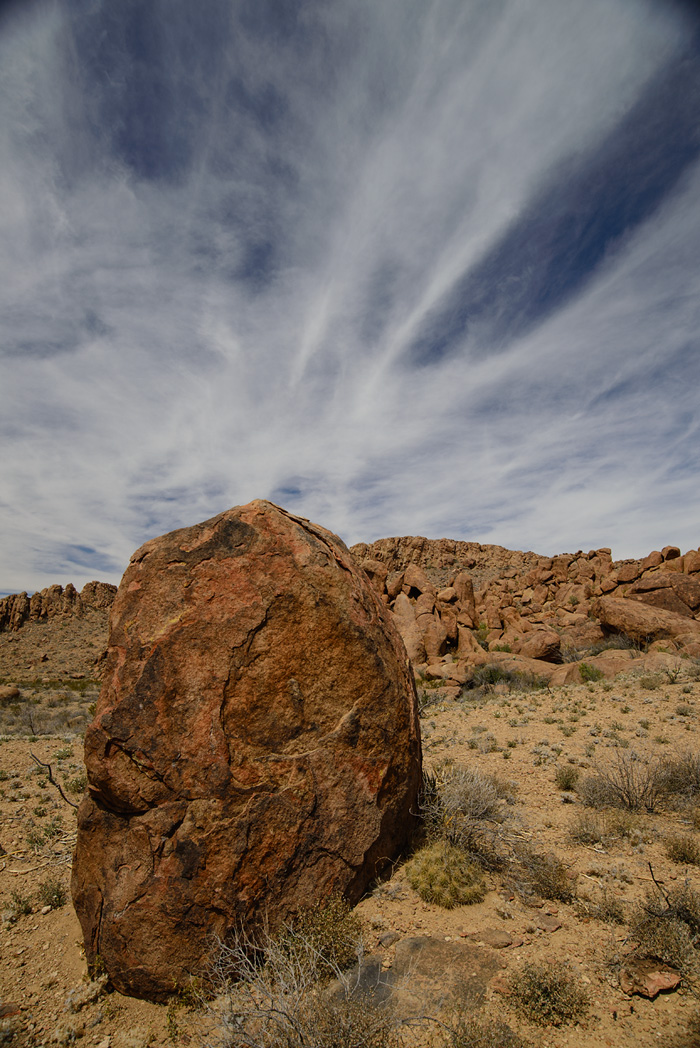 Our second day in the desert got off to an inauspicious start. We made the long drive over to Dagger Flat in hopes that a sea of yucca would be in full magnificent bloom. We'd seen many yuccas blooming in some areas of the park so I had high hopes. After a jouncey seven-mile drive on a dirt track we broke through into the flat and ….. nothing. The big bloom hadn't started yet. So it was back to the drawing board. We headed over to the Grapevine Hills to hike the short trail through a geologic wonderland. Nana and Gramps had other plans so we didn't catch up with them until later. It being midday, the light was harsh so the photography wasn't that great.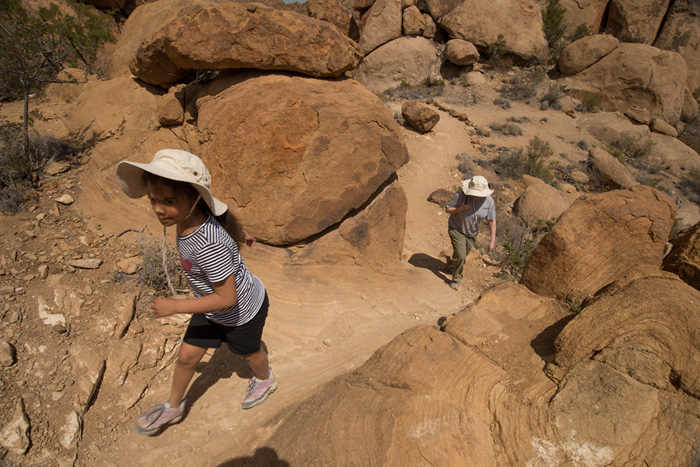 The little mountain range is the remains of an eroded igneous intrusion. It's littered with all manner of red flaky boulders. The first mile was a nice stroll on a well-beaten, flat path, but the final quarter mile was a pretty decent climb. In the warmer parts of the year the little valley is probably a furnace, but we had a nice day with temps in the lower 80s. The area looks like a classic place for the hero in a cowboy picture to get trapped by wild Comanches. Abby was dying to see some javelinas and she finally got her chance. They were sneaking around in the brush around a spring so I couldn't get a picture.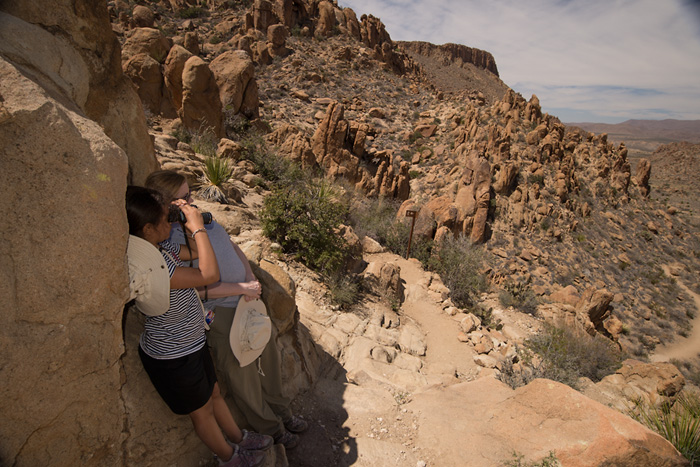 Abby used her binoculars to watch for Indians. Note how she leaned up against a rock to keep from sky-lining herself and becoming an easy target. Louis L'Amour would have been proud.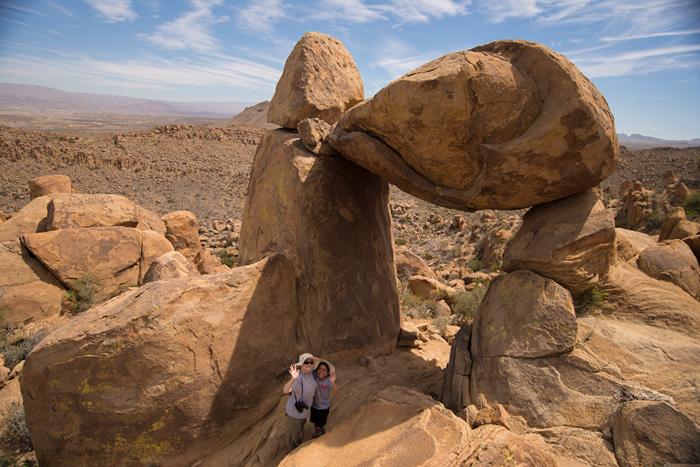 The payoff at the end of the trail is this balancing rock situation and a magnificent view of the untrammeled desert beyond.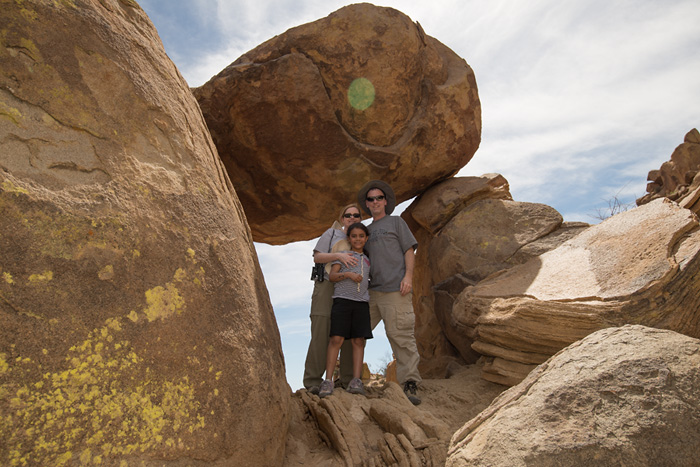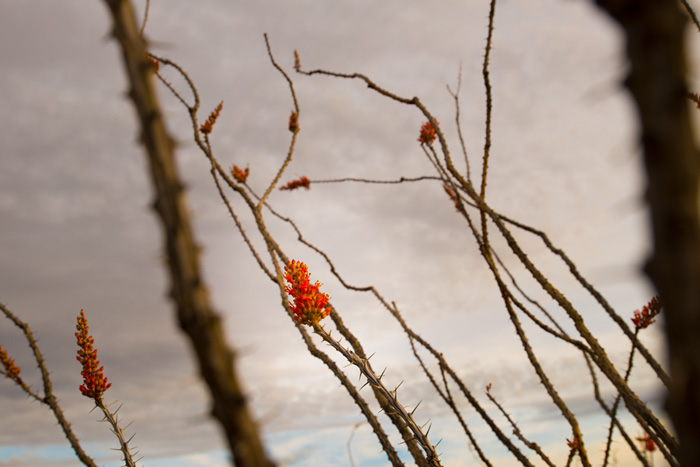 The ocotillo or Devil's buggy whip was putting on a show across the park. A veritable forest of the thorny plants grows near the west entrance to the park. I went out there at sunset hoping to get a great sunset I could silhouette the branches and flowers against. The sunset was a dud so I did the best I could. The wind was blowing hard, causing the stems to sway and blurring most of the flowers. Right at dark a bunch of humming birds descended on flowers, so that was pretty neat.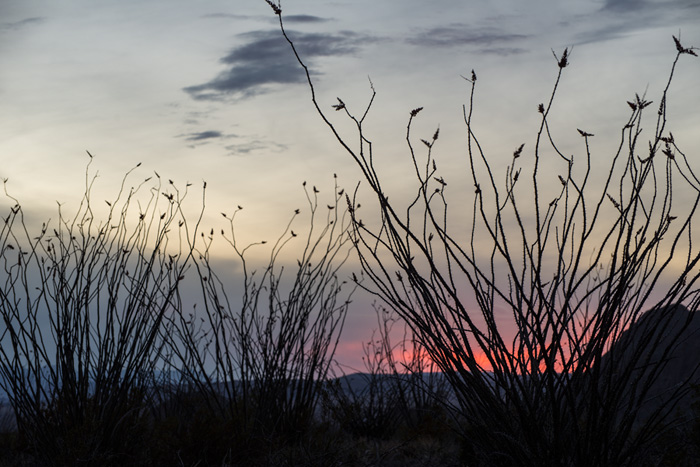 ---
---
---
---
---
---
---
---
---
---
---
---
---
---
---
---
---
---
---
---
---
---
---
---